Faculty Textbook Guide
See also: OCA website
Winter 2022
Online Coure Adoptions (OCA) for Winter 2022 are open Oct 29 - Dec 10th 2021.
All faculty and staff who place book orders for FT, Continuing Education, Distance Education, and Ontario Learn can
go to the OCA portal
. Faculty and Staff ordering for Apprenticship courses can contact the book buyers directly by phone or email.
Adoptions will continue to be added by program for Winter 2022. When entering the adoption, you must choose Winter 22 TERM from the menu for Fennell and Stoney Creek.
Please check your Dashboards for accuracy of course listings, and contact your respective buyer regarding: missing courses, instructor/coordinator reassignments, and additional courses to be added.
New for Winter 2022: Mohawk College White Label Store (
VitalSource
). If using a VitalSource e-text, please indicate in the same manner as you would for 'No Book Required' that you will be using VitalSource.
If you have any questions or concerns please contact your buyer:
OCA Guide
Please see our Online Course Adoption Guide in .PDF format: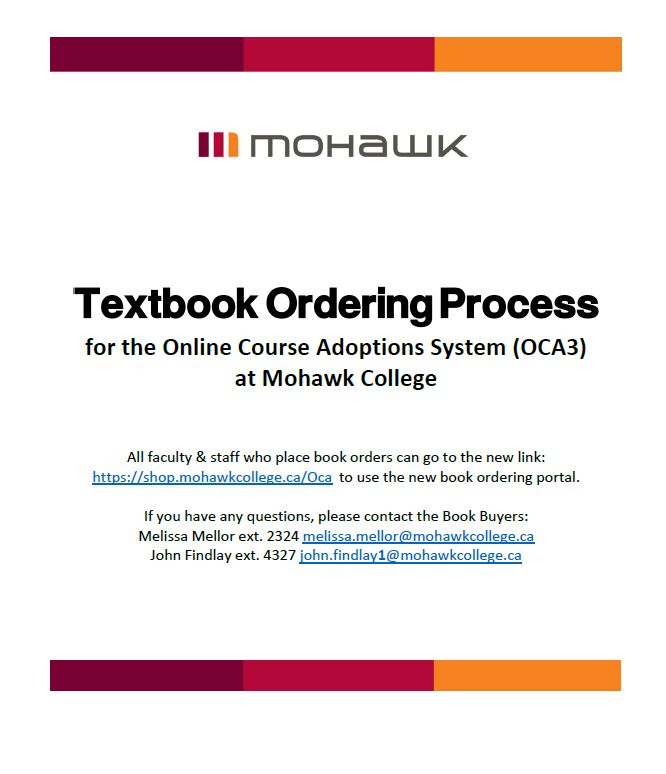 Do you require items other than books?
See also: Custom Merchandise
Some classes require a particular calculator, notebook, safety equipment, or uniform. We can help with that.
Please contact our General Merchandise buyer, Donna Mahon, with your items and course code. These items can potentially be added to your course as a suggested purchase, alongside the textbook. Or they could be located in our generic Course Supplies section if they may be of interest to other students.