Faculty Textbook Adoption Guide. Instructor textbook ordering. OCA
Open in new window: OCA portal
Spring/Summer 2023 Faculty Guide
Online Coure Adoptions (OCA) for Spring/Summer 2023 will be opening February 13th and closing April 10th, with a full timeline below.
All instructors and faculty coordinators who submit book adoptions can log into the
OCA portal
. The Book Buyers use this information to populate each semester with the required course materials for students. Please check your OCA dashboards for accuracy of course listings, and contact your respective buyer if additional courses need to be added or removed. Adoptions will continue to be added
by program
for Spring/Summer 2023.
Each distinct edition of a textbook, including every physical and digital version, will have a unique
ISBN
. Please only submit the ISBNs of the items you require, or allow as alternatives. For example, you might list 1
required
physical textbook, and 1
alternative
digital etext. They may be the same edition, but the physical and digital will have unique ISBNs.
If you are using an Open Education Resource (OER) or
VitalSource
e-text, please indicate in the same manner as you would for 'No Book Required,' and include a note about the item. We'd be happy to direct students to the resource, even if we do not sell it ourselves.
Book Buyer Information:
If you have any questions or concerns please contact your buyer:
Location: Fennell Campus C110 (College map)
Phone: 905-575-1212 ext 2324
E-mail: melissa.mellor@mohawkcollege.ca
Programs: Melissa buys for the following programs;
049 113 116 168 180 187 269 289 299 303 306A 307A 308A 309A 310B 310S 310T 313A 313D 316 319 320 334 334A 348 354 356 360 362 363 364 366 368 369 370 385 386 399 403 403A 406 413 420 421 429A 433 436 439 441C 442A 446 447 447A 451 452 453 455 456A 462 463 473 482 484 486 524 529 531 533 534 536 548 555 557 558 559 562 563 574 579 580 582 584 594 595 600 632 636E 652 669 670 671 684 967
C.E. COMMUNITY
C.E. HEALTH
Location: Fennell Campus C110 (College map)
Phone: 905-575-1212 ext 4327
E-mail: john.findlay1@mohawkcollege.ca
Programs: John buys for the following programs;
105 164 166 174 194 208 213 215 218 226 230 250 252 258 263 268 270 276 278 283 284 285 286 288 293 294 297 326 327 328 335 339 340 361 373 375 378 380 390 391 469 470 475 478 508 520 612 620A 620C 651 654 656 747 796 944 945 946 955 963 964 976-986
C.E. CREATIVE
C.E. TECHNOLOGY
Timelines:
| | | | | |
| --- | --- | --- | --- | --- |
| Winter 2023 | Summer 2023 | Fall 2023 | | |
| Oct 17 | Feb 13 | June 14 | OCA Opens. | 12 weeks before first class. |
| Nov 7 | Mar 13 | July 12 | Last day for custom publication adoptions. | 8 weeks before first class. |
| Dec 5 | Apr 10 | Aug 9 | OCA Deadline. | 4 weeks before first class. |
| Dec 12 | Apr 24 | Aug 23 | Semester published online for students to start purchasing. | 2 weeks before first class. |
| Jan 4 | May 8 | Sep 6 | First day of classes. | |
Help & FAQs:

We always try to open OCA 12 weeks before the first class, and 'close' it 4 weeks before. This allows the necessary time to purchase the required stock, and deal with unforeseen circumstances (edition changes, back-ordered, no longer in print, etc). We then aim to publish the semester on shop.mohawkcollege.ca 2 weeks before the first class, to allow students time to purchase their books in advance. This also allows us to optimize returns of unused stock back to the publishers.
Adoptions submitted after the closing date are typically not expected to arrive in time for the first day of classes.
Please see our Online Course Adoption Guide in .PDF format: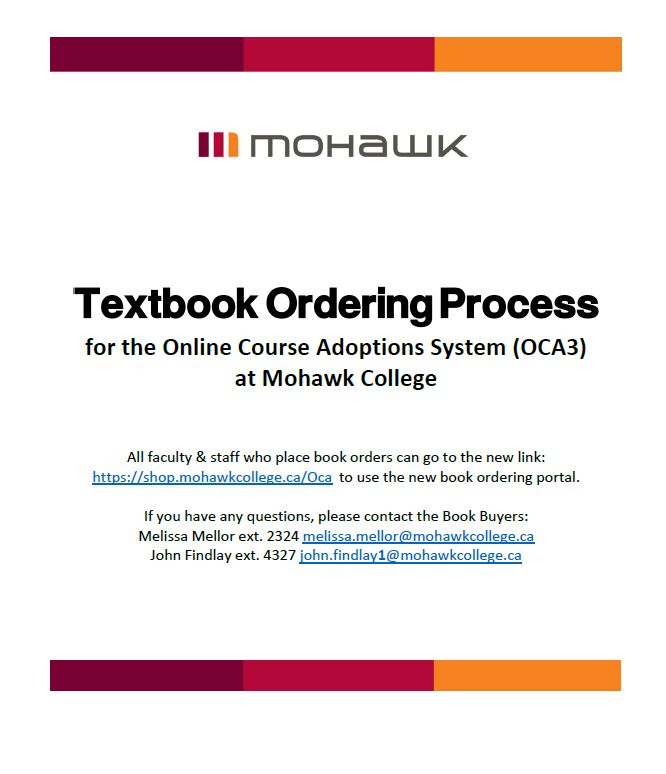 You log into OCA using the same Single Sign-on used for email, MyMohawk, etc. New faculty members can e-mail Melissa or John to be added to the OCA system.
It's different in each academic area. It may be an individual instructor submitting for their individual course, or a program coordinator submitting for multiple courses within a program, or a combination. Regardless, the bookstore does not police who is responsible. We simply need someone to confirm which material is being used this semester for each course offering.
When we build each semester in our system, we have the ability to assign one Instructor and one Coordinator to each course. Anyone assigned to a course will then see it pre-populated in their OCA portal, making their list of adoptions easier. We generally copy-over the previous like-semester and assume nothing has changed unless otherwise notified of changes. You can work alongside your book buyer to flesh-out these assignments, and insure that new courses and faculty are accounted for.
See also: Custom Merchandise
Some classes require a particular calculator, notebook, safety equipment, or uniform. We can help with that.
Please contact our General Merchandise buyer, Donna Mahon, with your items and course code. These items can potentially be added to your course as a suggested purchase, alongside the textbook. Or they could be located in our generic Course Supplies section if they may be of interest to other students.
We will work alongside you to see if a digital option can be found through Campus eBookstore or VitalSource.
You might consider approaching Print Services about creating a custom coursepack, and you can also approach the library to use the Reserves Collection.
You can have your department purchase in-stock textbooks from the bookstore using a FOAPAL (Fund, Organization, Account, Program, Activity, and Location). You will need to secure approval, and the details of your particular FOAPAL, from your department.
If you are looking to discuss textbook contents, edition changes, or custom publications, please reach out to the publisher directly.
Publishers:
Everyone at the college wins when you adopt early and direct your students to purchase the materials through the campus stores. All of the 'profit' generated remains in the school; reinvested to the benefit of students, faculty, and the college as a whole.
You can choose to send students elsewhere (directly to the publisher, to Amazon, etc), but that revenue is now lost, revenue that helps to cover the cost of many campus supports and services. And now, instead of having a Mohawk College colleague to help you trouble-shoot and problem-solve issues, you have to rely on large-scale international corporations, 1-800 numbers, and chatbots.
Shop around. You'll see that our prices are very competitive, and often cheaper.
You can assist by supporting the use of your chosen materials to your students. Directly linking to shop.mohawkcollege.ca in your course outlines and on MyCanvas is a great way to do this. We can provide links to individual courses, or shelf locations within the bookstore. Anything to make it easier for students to find their books. We're here to help.
We strongly encourage the use of
OCA
, but in the event of a last-minute emergency you can use this
Emergency Adoption
E-mail tool.
The purpose of OCA is to track, semester by semester, the history of each course's adoptions in a way that easily imports into Bookware, the software used by the bookstore. Adoptions coming in by email create many difficulties in maintaining records. When an 'Emergency Adoption' is received, one of the buyers will be submitting the adoption into OCA on your behalf.